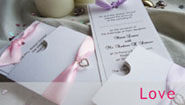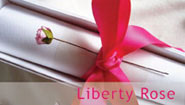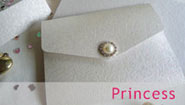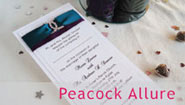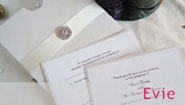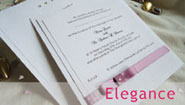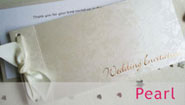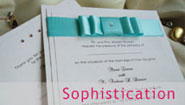 Handmade Wedding invitations
Our handmade wedding invitations create the perfect introduction to your wedding. We have selection of over 30 handmade wedding invitations to choose from including pocket, wallet, postcard and scroll invitations. Many of our designs can be personalised with your choice of ribbon colour to match your wedding theme.

Our handmade wedding invitations are carefully crafted in-house using a range of luxury embellishments such as diamante buckles, faux pearl embellishments and satin ribbon. Love2print's expertise ensures that each handmade card is beautifully finished to provide you and your guests with that wow feeling.

We now also offer a range of handmade christening invitations. These are personalised with the baby's name and christening date on the front. You can choose from baby blue, baby pink or white ribbon to decorate your card. Each ribbon is hand tied by us for that professional finish.
We offer up to 20% off the RRP on wedding invites
Selection of luxury handmade wedding invitations
We supply a range of FREE wedding invitation samples
FREE DELIVERY on favours, garters and all orders over £200
One of the largest wedding stationery ranges on offer
Safe and secure online payments


Printed Wedding Invitations
Our printers use the highest quality materials to create your perfect wedding stationery. Your personalised wedding details are printed on to quality paper and card using a range of professional printing processes. Some of our printers have been established for over a 100 years, making them experts in their field.
Wedding Invitation Designs
From a traditional white wedding to an unconventional celebration we believe that we have the perfect personalised wedding stationery for you. Our wedding invitations are available in a wide variety of styles, from traditional and classic through to modern and unique. We have over 200 designs to choose from, to view them please use the menu on your left.

We pride ourselves on providing excellent value for money by offering 15% off CCA Occasions, 15% off BelArto and 20% off Collisons wedding stationery.


Latest Blog Posts
Airport Wedding Fayre
» This has got to be a first! Would you like to see a Vulcan Bomber and find your wedding dress or cake maker? Then you should visit the Doncaster Robin Hood Airport on Sunday 27th October 2012. Sounds like a pretty cool idea to me, maybe unusual venues for fayres should be the new thing?
The Pain of the Non-RSVPers
» Can / Cannot accept… Why, oh why do guests not RSVP? This is something I'm sure nearly every couple has been through – you need to know how many guests to cater for but you've not received all the RSVP cards back. We live in a world where is pretty hard not to be [...]
Planning the Perfect Wedding
» Organising your big day can be incredibly exciting, but it can be scary and overwhelming at the same time. There's a lot to think about – who you are going to invite, who is going to sit with whom, the menu, the dress, the guests, the luxury limo and wedding car hire, the venue – [...]
DIY Jam Jars
» As I said, a new page on how to make a Vintage Inspired Jam Jar Tea Light Holder:
http://www.love2print.co.uk/blog/diy-bride/vintage-inspired-jam-jar-candle-holder/
This is a really quick and simple idea, but one that would look great on any vintage wedding reception table. Enjoy!
Sorry for Being so Quiet
» I will be posting a new DIY article soon. I'm going to be making some jam jar candle holders, so watch this space!
How to Order Your Wedding Invitations
Ordering your wedding invitations couldn't be simpler. First add your wedding invitations to your basket, remembering to select the right quantity and colour option (if applicable). Follow the on screen instructions and complete your delivery and payment details. Once you have ordered you will be sent a data entry form via email to complete at your leisure. There is no need to have all your wedding invitation details to hand before you place your order!

Once you have completed the form and submitted it you will be sent a proof of your wedding invitations. You will then have the choice to amend or approve the proof. Once approved your wedding invitations will be printed. Proofs are normally sent within 2 to 4 working days of submitting your order (submitting your order includes submitting the data entry form and/or emailing your wording to us). However at busy times of the year it can take up to 5 working days.

If you have selected to use your own wording please ignore the data entry form. Please send the wedding invitation wording directly to us via email with your order reference number. If you prefer you can send the details as a Word attachment. Wordings should be emailed to sales@love2print.co.uk and should include your order number.

For most of our other wedding stationery the process works the same, however, for Orders of Service and Orders of the Day please email the wording to us as with 'Your Own Wording' orders. For table plans please send your wedding reception layout to us in Word or Excel format.
Free Wedding Invitation Samples
We offer up to 3 FREE Wedding Invitation Samples per household. Requesting free wedding invitation samples will enable you to check the quality of our invitations. We advise every customer to order at least one sample to ensure that their chosen design is exactly what they want and the style suites their wedding theme.

Ordering free invitation samples could not be easier. First locate your chosen design, then press the 'Request Free Sample' link. Some samples can be ordered directly via our site, others will direct you to the manufacturer's website where you can order samples directly from the supplier.

If you are directed to the supplier's website, remember to return to us to receive your discount.

We also have a selection of sample handmade wedding invitations available for a small charge. Please see each individual handmade sample for pricing details.

Note: Collisons supply a maximum of 2 samples. Some samples come directly from the supplier and may take up to 10 working days to arrive. We can only send samples of wedding invites (not reply cards, orders of service, etc).
Favours
Wedding favours are traditionally given as a thank you to each of your guests for their attendance at your wedding. Traditionally filled with sugared almonds, modern wedding favours can contain a variety of sweets or even small gifts.

We have a range of wedding favours including organza bags and gift bag favours. Our organza and satin bag wedding favours come in a variety of colour options to suite any wedding theme.
Stationery Explained
For most brides and grooms planning your wedding day can be an exciting but sometimes daunting experience. To assist you in planning your day and wedding stationery budget we have outlined each piece of wedding stationery and what it does.

Save the Dates can sent to your guests in advance of your wedding invites to ensure that they keep the day free.

Wedding Invites should be sent to your guests 6 to 8 weeks before the wedding to make sure they respond in time so you can plan accordingly. We recommend that you order your invitations at least 3 months in advance of the wedding date.

Evening Invitations should be sent to your guests who are not attending the marriage ceremony but who are invited to the reception.

Wedding Blessings are for weddings which have not taken place in a church but are blessed formally, you may choose to have your Order of Service with a specific Blessing wording.

Wedding Announcements follow small private weddings or weddings abroad, you may wish to inform a wider circle of friends and family of the ceremony.

Orders of Service should be given to your guests at the ceremony to enable them to follow the hymns and service.

Orders of the Day outline the events of the day. For example when photos will be taken and when the wedding breakfast will be served.

Reply Cards allow your guests to respond to the invitation to your wedding.

Thank You Cards should be sent to guests to thank them for your wedding gifts. Pre-printed messages are available or you can choose to write your own personalised message.

Place Cards allow guests to know where they will be sitting at your reception.

Table Plans enable your guests to easily locate which table they will be seated at.

Menus not only layout what courses you are having at your reception but can also incorporate when speeches and toasts will take place.

Information Cards include information such as directions and gift lists or any other information which you won't have room to fit on your wedding invitations.

Civil Partnerships Some of our designs have been created specifically for Civil Partnership Ceremonies. However, as you can choose what wording you want all our other wedding stationery can be used for this type of service. Feel free to choose whatever design you like to suite your wedding theme.
Frequently Asked Questions
If you have a question about our wedding invitations or wedding stationery which is not answered here please email us.

Are envelopes included with my invitations?
Where applicable envelopes are included with all our stationery.

Do you supply wedding stationery to match my chosen invitations?
Most wedding invites can be supplied with matching stationery such as orders of service and reply cards. To see whether your chosen design has matching stationery visit the product page and click the 'Related Products' tab.

Will I receive a proof of my invitations?
Where applicable you will receive a proof via email for all our stationery. The proof can then be amended or approved before printing commences. Proofs are normally sent within 2 to 4 working days of submitting your order (submitting your order includes submitting the data entry form and/or emailing your wording to us).

When will my stationery be delivered?
Delivery is normally within 10 to 15 working days of proof approval. Due to seasonal changes delivery times may vary. Delivery for handmade wedding invitations and stationery is between 3 to 6 weeks.

Can I have my order delivered to an alternative address, such as my place of work?
Yes, when ordering please enter your delivery address where it says shipping address.

Can I supply my own wording?
Most wordings can be accommodated for wedding invitations and any other wedding stationery (size permitting). When ordering please select 'Your Own Wording' option from the drop down menu. Once you have completed your order please email your wording to sales@love2print.co.uk quoting your order reference number. Most of our suppliers charge a premium for foreign text, if foreign text is a requirement please contact us for a quote before ordering.

Do I need to enter a valid email address?
Yes, your proofs will be sent to you via email. We will also send updates and dispatch emails to you.

Can I change my wording after the data entry form has been completed?
Yes, however, it is better to await the proof of your order before making any changes.
How We Make Our Handmade Invitations
Assembly of our handmade invitations differs depending on the design. With our handmade pocket invitations the outside of the card is completed including adding any ribbons and embellishments before attaching the insert. With many of our flat postcard designs the insert is layered onto card first before the embellishments are attached. This layer is then attached to the bottom and final layer of card. Once the handmade wedding invitations are completed they are carefully and securely packaged up along with the envelopes. Most of our handmade cards are fully assembled by ourselves, however, some designs due to their nature require some assembly, if this is required it will be stated in the product description.

Designs

Our handmade wedding invitations encapsulate the essence of luxury and sophistication. Our designs have been created to provide you and your guests with that wow feeling, a must have for any Bride wanting the perfect day.

Each invite uses high quality materials such as faux pearl embellishments, diamante buckles and satin ribbon. In order to coordinate perfectly with your wedding day Most of our handmade wedding invitations come with a choice of ribbon colours.

We also have a selection of wallet and cheque book invites that come with guest information and reply cards. Unlike some handmade cheque book invites our designs come with postcard style reply cards (opposed to paper RSVPs). You can also purchase extra inserts with both our wallets and cheque books if you need to provide extra information to your guests.

Our scroll handmade wedding invitations are a great alternative for couples looking for something a little different than standard flat invites. Each handmade scroll is personalised with your guests names' free of charge. Because the scrolls are A4 in size you also have the option of including guest information such as directions at the bottom of the scroll. Each handmade scroll is decorated before placing in the outer box. Each scroll comes with it own decorative box which not only adds to it's beauty but also protects the handmade wedding invitation within.
Wanting to know more about planning your big day? Then read on through our wedding guide.
Bridesmaids

Choosing your Bridesmaids can be difficult but rewarding Most Brides choose close friends or family to become their Bridesmaids. Often Brides will ask their husbands sisters to join the Bridal party.

The Chief Bridesmaid role normally goes to the Bride's best friend or sister. The role of the Chief Bridesmaid is to help the Bride choose her dress and the Bridesmaids' dresses. Help the Bride prepare for the wedding day, take the bouquet from her when she is standing at the alter, organise the Hen night and help out the Bride when needs be.

Best Man

The Best Man is usually the Groom's best friend or brother. The Best Man will perform a speech at the wedding, carry the rings, ensure the Groom gets to the wedding on time and plan the Stag night.

Mother of the Bride

The Mother of the Bride should be there to support the Bride's decisions about her wedding day. She may also help out with the planning of the wedding day and help ensure everything runs smoothly.

Father of the Bride

The Father of the Bride traditionally walks the Bride down the aisle. More commonly known as 'giving the Bride away'.

Flowers

Your wedding flowers are very important aspect of your wedding day. Your bridal bouquet should compliment and complete your wedding dress. Your flowers should also help to tie in the wedding theme. All flowers, including brides, bridesmaids, church and reception flowers should coordinate. Find a good florist by searching the Yellow Pages, online and at local wedding fayres. A good florist should be able to give you help and advice on choosing the perfect flowers for your big day.

Wedding Cars / Transport

If you want to make a big entrance then your wedding car is of the utmost importance. First you need to think about the general style of your wedding, is it modern of traditional? For a more traditional wedding choose a classic car or even a horse and carriage. If you are having a modern wedding then choose something more up to date, or even something unusual such as Tuk-Tuk.

Photographs

Choosing the right wedding photographer is very important. Your wedding photographer needs to capture the mood and atmosphere of your wedding day. Good photography will provide a lasting memory of your wedding day. A popular choice for modern brides is to choose reportage photography, this style of wedding photography captures relaxed moments of the day and provides a true picture of your wedding.

Wedding Cake

Your wedding cake is the centre piece of the wedding reception. For a bold statement piece choose a cake with several tiers and bold decoration. For a more relaxed wedding consider less tiers and perhaps miniature cakes and buns. Your wedding cake should tie the colour scheme together and combine colours from the wedding dress, bridesmaids' dresses and wedding flowers.

Wedding Ring

A wedding ring is a sign of unending love (a continuous circle). Your wedding ring is something you will be wearing for the rest of your life so it should be a purchase you are truly happy with.

Wedding Reception

Your reception is a chance for you and your guests to celebrate your marriage. It may take the form of a traditional sit-down meal or a more relaxed buffet. For a more formal wedding reception you may wish to purchase a Table Plan or Seating Plan. These aid the seating of your guests along with place cards.

Honeymoon

Your honeymoon is a chance to relax after your wedding day. However, you don't have to go abroad to enjoy yourself. It is about spending time together as husband and wife wherever you are.

Confetti

Confetti is thrown at most weddings, however, remember that some venues have restrictions on this for environmental reasons. Many guests will bring their own confetti but you can supply it yourself if you wish. If you are doing it yourself you might want to consider confetti cones. These are little paper cones that are often decorated with ribbons or other embellishments. They can then be filled with the wedding confetti of your choice.

Wedding Dress

Your wedding dress is considered one of the most important things of the day. If should make you feel beautiful but also comfortable. It is easy to choose a dress that is not really you because you think it is what Brides wear. Choose a dress that suits your personality and individual style. Also make sure the dress is comfortable as you will have to wear it all day, unless you plan to change it to a more practical outfit latter in the day.

Personalised Wedding Invitations | Handmade Wedding Invitations | Printed Stationery